According to Oxford Analytica, there are 15 "Global Stress Points" ranging from medium to extreme high impact to the entire world. These are listed below ranked by their potential impact.
Dollar Collapse
Taiwan / China Armed Hostility
Israel / Iran Armed Conflict
Mexico State Hollowing
Global Protectionism
Latin America Hydrocarbon Disruption
Iraq State Institutions Collapse
Russia Military Aggression
End of Euro
India / Pakistan War
Pakistan State Collapse
Argentina Sovereign Default 2.0
North Korea Military Conflict
War in North Africa
Lebanon Civil War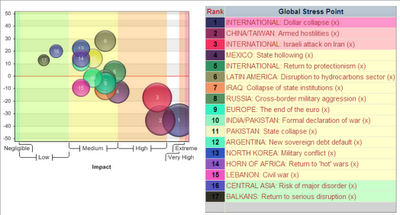 (Click to enlarge) Chart Source: Oxford Analytica
It can give us Europeans some comfort that the euro's demise is surprisingly not as big a deal as the Dollar Collapse or a China/Taiwan war.