GDP projections from PwC: how China, India and Brazil will overtake the West by 2050
GDP projections from consultancy PwC show how the US, UK and the west will fall far behind the new economic powers like China in GDP by 2050.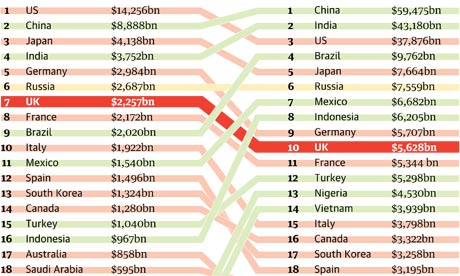 What will the world look like in 2050? For a number of years, the economists at PwC have been charting the rise of the big emerging countries and seeking to calculate the moment when the G7 industrial nations will be surpassed by an E7 (E for Emerging) of China, India,Brazil, Russia, Mexico, Indonesia and Turkey.
To do this, they used World Bank data for growth up until 2009, PwC's short-term projections for the years up until 2014 and their long-term growth assumptions for 2015 to 2050, which rely on assumptions about population growth, increases in human and physical capital, and the rate at which poorer countries can catch up with the more advanced technologies used in developed nations.
Thanks to PwC the key data is below. What can you do with it?
Data summary